Updated: Oct 21, 2019
What up, guys!
How's it going on this lovely Monday morning? I gotta say, I feel good and refreshed. Although it's cold as heck and the skies are gray, I have a smile on and it feels amazing! I'm not sure if I can associate this to hearing a good word yesterday at church, or the detox flourishing but I will take the WIN!
As some of you know, I stepped into 2019 wanting to cleanse my body, soul and mind. The way I am cleansing my body is 30 days of no alcohol or meat. Many thought I was crazy dropping not one but two of the biggest/hardest things for a Carnivore Wino like me. But I had to do it. I had to see what changes my body would make and how I would feel. For me, this was not centered around weight loss but I definitely hoped it would promote it. Check out my experience so far below!
My Experience:
- The first few days, I kept getting headaches. Of course, I googled and it's not necessarily the 'going without meat' that triggers a headache. It's simply the shock your body's in due to the drastic diet change. Some blogs suggest you slowly decrease to no meat but I did not. Cold turkey all the way and I noticed that once I ate something full of protein, the headache went away on its own!
- The first week, I allowed myself to eat anything BUT meat. This was a change for me as I normally stay away from carbs and sugar. However, since I knew no meat was going to be hard enough for me I did not want to limit those things on top of it and risk failing the vegetarian status. After that first week, I slowly started cutting those carbs back out. Now that I am approaching the 14th day, I am fully on nothing but Fruits and Veggies. With minimum processed foods as possible. This will obviously be more difficult but I am joining a fast with my church and prayer will get me through it!
- My energy has been up and down. I have not narrowed down the foods that have triggered those up moments just yet. But I have been back in the gym more consistently than before, and I associate that to a WIN! I am looking to see how the no carbs affect this as I notice while on KETO where I limit my carbs to a minimum I have a hard time wanting to gym every day.
- Digestion...I have always been 'normal' but let's just say the new normal is just about every time I go to the restroom. I'll leave that there... :)
- I feel less heavy, less bloated all around. This could definitely have something to do with the last bullet point lol but hey, just saying!
In regards to the no Alcohol portion. About one week in, I thought 'wow, this is not hard at all'. Then the first weekend came along...
- It's definitely harder on the weekends and socially.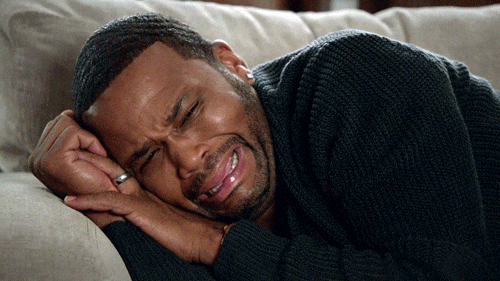 Ok, maybe not that dramatic, but I know for a fact my Detox Buddies have slipped either on the meat or drinks...Ehh hemm...
Them reading this:
- Overall: I think this could be somewhat of a new normal for me. Don't get me wrong I miss a good steak, especially around that time of the month ladies, but so far it has not been too tough. This is also while I am still cooking meat for my Protein Junkie Fiance... (There was no way he was able to cut meat out with me, he says) So, after this is all said and done, I think I will incorporate a few more veggie only meals into our routine. I made a veggie lasagna that was so amazing and filling, so why not? I will check in again once the fruit and veggie only portion is complete to be sure this all matches up but so far so good!
So what do you say, are you in? Check out these two online resources for healthy eats some friends passed along:
https://www.skinnytaste.com/
https://cookieandkate.com/
#2019 #NewYear #Detox #CheckIn #LetsTalk #Blog #Healthy #HealthyEats #Vegetarian